Please, respect my work:
don't convert these for any other game, Sims or anything else, (if you need something special, ask me), don't upload to any other site.
Thanks!
S'il vous plait, respectez mon travail:
ne convertissez pas ces objets pour un autre jeu, Sims ou autres, (si vous avez besoin de quelque chose, demandez-moi); ne redistribuez pas mes créations sur un autre site. Merci!
Entertainment | Sport
Divertissement | Sport
Rock Climbing Wall
Rocher d'escalade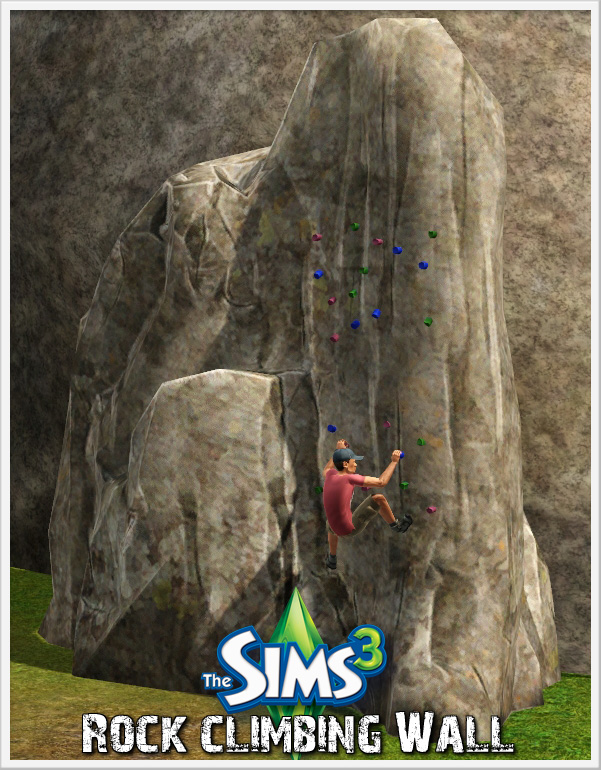 I've always wanted to use the

Store Climbing wall

, but I wasn't fan of its actual shape, so I remade it as a rock. It means it has few clipping issues, of course, as I haven't made the rock as flexible as the climbing wall (which is pretty logical, you'll admit! ;))




J'ai toujours voulu utiliser le mur d'escalade du Store mais je n'étais pas trop fan de sa fore d'origine, alors je l'ai transformé en rocher, ce qui implique hélas quelques collisions entre le rocher et les jambes des Sims (le rocher n'étant pas aussi flexible que le mur d''escalade), mais ça me semblait quand même plus logique comme ça! :))



Downloads | Téléchargements
Rock climbing wall | Mur d'escalade
ATS3-object-sport-climbingrock

IMPORTANT
Please read carefully the instructions!
Merci de lire attentivement les instructions!


Date of Release | Date de Publication:

2017, March 17th
Palettes:


: 0
Vertex/Faces:


:1771/1780


:361/580


Some of the Gifts
for Donators

My other sites



This site is not endorsed by or affiliated with Electronic Arts, or its licensors. Trademarks are the property of their respective owners. Game content and materials copyright Electronic Arts Inc. and its licensors. All Rights Reserved.
Copyright 2004 © Sandy, at Around the Sims/Around the Pixel
Redistribution or alteration of any item that can be found on this site is forbidden.